ABOUT MARK WESSELS
MARK WESSELS is an internationally respected author and educator and is currently the Director of Education for the Avedis Zildjian Company. As a publisher, his "Fresh Approach" method books are among the most successful in the world, with over 400,000 copies in print between the current titles.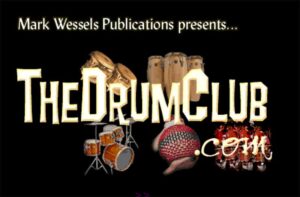 Over the past 25+ years, Mark has been instrumental in developing online educational content. From his founding of one of the first websites devoted to percussion education (TheDrumClub.com) in 1995 to his work building www.vicfirth.com from scratch in 2001, Mark created one of the most popular online destinations for drummers and percussionists today. Along with many of the world's most prominent artists, Mark produced many of Vic Firth's most popular educational projects, from the Essential Rudiment posters and accompanying videos and play-along tracks to Percussion 101, WebRhythms, Groove Essentials, Vic Licks and Marimba Literature Library to the popular DCI/WGI "In the Lot" videos which he began filming in 2001. Mark has continually pushed the bar forward with percussion entertainment as well. He was instrumental in filming and producing videos from PASIC, Montreal Drumfest, UK Drum Show as well as the currently popular VFJams and Zildjian Live productions to name a few.
Mark's background is varied in the world of percussion. He performed in the snare line of the Madison Scouts Drum and Bugle Corps (1983), holds a B.M.E from the University of Texas at Arlington, was a public school band director and percussion educator in Texas (1984-1999), served as Percussion Caption Head and Arranger for the Sky Ryders Drum and Bugle Corps (1985-1991), and was an active adjudicator for DCI and WGI (1991-2003).
5 MINUTE THEORY
The "5 Minute Theory" workbooks for band and general music class has a similar story, being written for his middle school band students (mostly as busy-work for them to do while class roll was checked and the inevitable clarinet or flute key pad were fixed). The worksheets proved so successful that Mark was soon going to Kinkos to make copies for his friends and it eventually made it's way into publication. The workbook is highly popular, with over 25,000 books sold each year.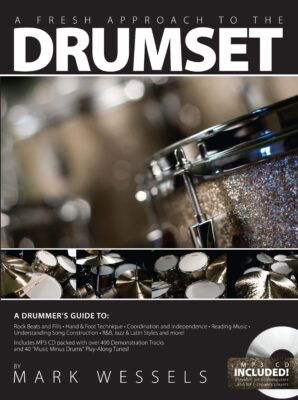 A FRESH APPROACH TO THE DRUM SET
Mark wrote "A Fresh Approach to the Drum Set" over a 5 year period from 2007-2012. With the goal of simultaneously teaching the beginning drum set student technique, independence, rhythm reading, essential grooves and musical styles (hearkening back from his work with Tommy Igoe on Groove Essentials, long before it became a successful book & video series), Mark sought to structure the method to being a seamless learning experience from the very beginning through advanced. With the help of Donny Gruendler, Christian Lundberg, Chuck Silverman and other artists from Musician's Institute in Los Angeles, the play-along tracks were created. The book was first published in 2012 to wide acclaim.
During the recording of the video lessons for the book, Mark had a setback: a house fire claimed all of his belongings and stopped all production in his 'studio/media room'. Rather than continue while fighting insurance companies and rebuilding, Mark enlisted his good friend Stanton Moore to work up all the material and film the video lesson series. While Mark wrote the book, Stanton's participation in the production became an invaluable asset to how the method can be utilized for self-instruction and supplemental educational material for the private lesson teacher. The latest version featuring Stanton was first published in 2015 and continues to grow in sales.
Mark also collaborated with, and briefly published other methods written by close friends. Jeff Queen's "The Next Level: Rudimental Techniques" and Scott Johnson's "Progressions" books were his first forays into widening his catalog of offerings. Eventually Mark decided to keep his publications focused on the Fresh Approach books and discontinued selling the books (although they are still offered through other publishing companies).
A FRESH APPROACH TO TECHNIQUE AND MUSICIANSHIP WITH FOUR MALLETS
"A Fresh Approach to Technique and Musicianship with Four Mallets" was his first collaboration with another author under the "Fresh Approach" banner. David Skidmore (a close friend and former student from Mark's band directing days) completely composed the book from Mark's desire to publish a systematic method for teaching fundamental four mallet techniques that corresponded to short musical selections that could stretch a student technically AND musically, while not demanding months of practice to be able to successfully complete the etude. David's method was completed and published in 2012.
ON THE HORIZON
Looking towards the future, Mark wishes to continue to push the bar in regards to music education. His recently released "A Fresh Approach to Snare Drum" Video Lesson Series gives students the ability to structure his or her practice sessions with the guide of a teacher (and author of the book). It's Mark's hopes that the technical and musical concepts that he has developed in the 30+ years will be of great aid to the student as well as percussion teachers and band directors who can use it as a resource in their classrooms.
Mark is currently working on "A Fresh Approach to the Beginning Percussion Class," a new method that integrates the Fresh Approach snare drum and mallet methods into a simultaneous classroom approach (splitting the class between students on snare and students on keyboard). With the gradual introduction of the other percussion instruments, each lesson culminates with a short percussion ensemble to give students a musical experience with a total percussion approach. With the current Covid-19 school situation, plans for testing the method with select programs across the country have been put on hold, but God willing, look for the full publication of the method in 2022. If you wish to learn more about the method and potentially trial it in your percussion classroom, please contact Mark through the contact form on the website.
Further down the road, Mark has plans to collaborate with other top artists to publish other targeted Fresh Approach method books. Along with the percussion methods, he is also sketching / designing lessons for "A Fresh Approach to Rhythm and Sightreading", a method for full band that was conceptually designed with former friend and colleague Richard Williams (deceased), author of "Foundations for a Superior Performance" (Mark wrote the percussion book that accompanies the band method). As soon as "free time allows", look for this method to go into production and eventual publication!