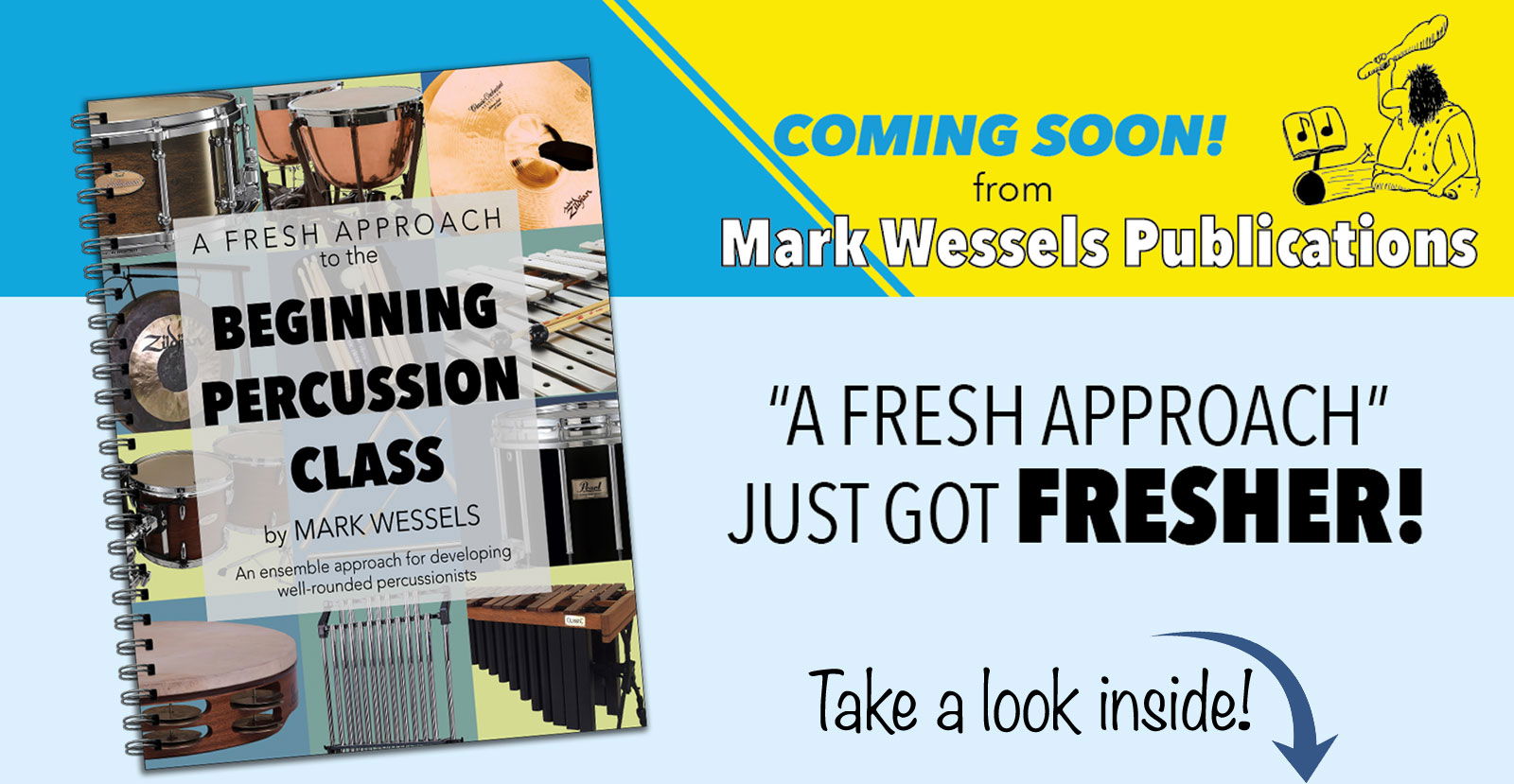 Including a step-by-step introduction of
the essential percussion instruments

Instruments are introduced gradually, creating an exciting way to motivate students.
Fun to play ENSEMBLES in each lesson help develop the well-rounded percussionist!


The same great curriculum you love from A Fresh Approach to Snare and Mallets!


• Daily Warm-up & Technique Exercises
• All the Essential Rudiments
• Rhythm Reading Appendix
• Well Paced Keyboard Reading Lines
• Speed Note Reading Exercises

NOW ALSO INCLUDING:
EXTENDED RUDIMENTAL ETUDES

EASY TO FOLLOW PROGRESS CHARTS
  FREQUENTLY ASKED QUESTIONS:
When can I get copies of the book to check out?

JUST AFTER SPRING BREAK!


Book 1 finished by the end of March, Book 2 by mid-April. Depending on the printing schedule, I should have copies ready to ship by early May!

"1st Edition, Autographed" copies may be offered in early April. Just think of how much these will be worth 20 years from now!  :0)

Sign up for our mailing list or send Mark an email to be the first to be notified!

You said "Book 2" – will there be more than one book?

YES!  Book 1 contains Lessons 1-10, Book 2 is Lessons 11-20.

The curriculum follows the Fresh Approach to the Snare & Mallet books, but adds a considerable amount of content with the inclusion of other percussion instruments so one combined book would be well over 200 pages. I split the books into two parts to keep the cost lower at the beginning of the year – and to not have one huge book that students have to carry around (or potentially loose).
Is this the same as the other Fresh Approach books, just combined?

No. I wrote this book from the ground up – but applied all the same curriculum & musical concepts as the other books. Because the snare and mallet parts are designed to work together, there is careful planning for how the daily warm-ups, rudiments, music reading studies and longer etudes should work together.

The introduction of all the percussion instruments also added an opportunity to include ENSEMBLES within each lesson that apply the new musical concepts.  Because that takes up space, the music reading lines are more concise and rudimental etudes are moved to the appendix.

Should I use this INSTEAD of the current Fresh Approach to Snare & Mallet books?

In my opinion, it depends on whether you're teaching a percussion class or private lessons. Because this book is designed with a percussion ENSEMBLE experience in mind, the original Fresh Approach snare and mallet books would work better in the private studio because they have more individualized, demanding content.

Since the books follow the same curriculum, you MIGHT want to use this with the class and continue to use the FA Snare book in private lessons.

Each teacher will have their own valid opinion. My goal is to offer a great method that appeals to any way that you prefer to teach your students!
HAVE MORE QUESTIONS?
Don't hesitate to send Mark an email!  He will get back to you as soon as he can!